Be a leading voice in the healthcare services industry.
We empower healthcare service organizations to achieve sustainable growth and envision a world with better healthcare delivery for patients.
Since SCALE launched in 2019, our team has grown to over 150 people, 70 of which are operational experts.  We have on-the-ground presence in over 10 states including New York, New Jersey, Connecticut, Illinois, Michigan, Texas, California, South and North Carolina, Colorado and Pennsylvania.
We believe in challenging the status quo and building true partnerships with our colleagues and clients.  Are you ready to roll up your sleeves with us?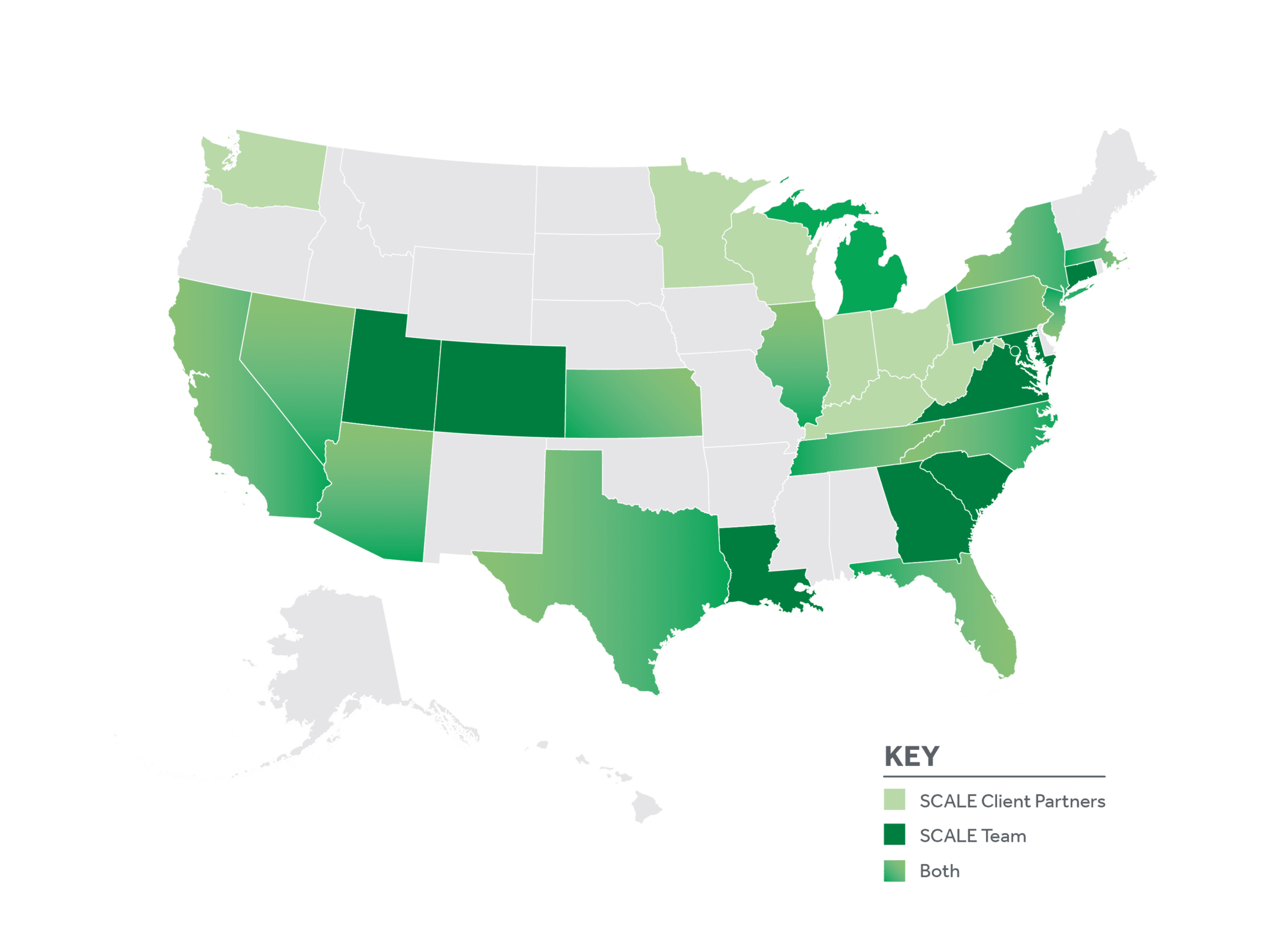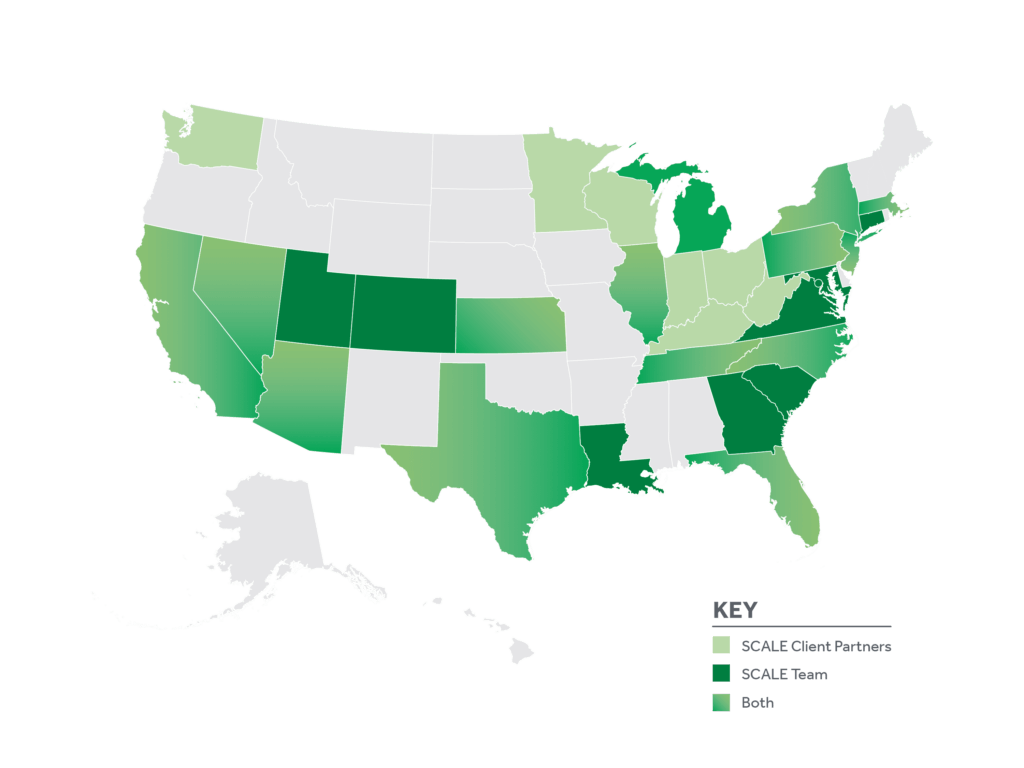 "The level of support from the team is always outstanding and the ability to tap into the collective expertise of the advisor group is a rare opportunity to access some of the best minds and talent in the industry."
Mike Reed, President, Value Based Care Operations
Transparency. We are open and honest and believe in the sharing of knowledge.

Partnership. We are team players and believe in developing long-term relationships.

Organization. We are obsessively detailed and believe in methodic sequencing and execution.
Empirical Analysis. We are forever students and believe in making decisions based on analytics.

Empathy. We are physician advocates and believe in treating people as individuals.

Passion. We are intensely motivated by our work and believe in loving what you do.
See yourself at an entirely unique healthcare management services company.
Our multidisciplinary team brings a wide range of expertise to our client engagements.  We seek to collaborate with driven and dynamic individuals with a demonstrated passion for healthcare and improving the model for healthcare delivery.  We support a nationwide remote working environment and encourage candidates from across the country to apply.
Interested candidates should submit their resume and cover letter by clicking 'Apply'.
I have had the great pleasure to work with SCALE for over 2 years. During this time I have had the opportunity to work with Roy, Jason, and the members of the SCALE team on multiple engagements across multiple disciplines and have found it to be a consistently rewarding experience. The level of support from the team is always outstanding and the ability to tap into the collective expertise of the advisor group is a rare opportunity to access some of the best minds and talent in the industry. Under Roy and Jason's leadership, SCALE consistently brings dynamic and interesting opportunities to support physicians, private equity, health care leadership and ultimately patients in achieving and maximizing results. It has been a great pleasure to be part of the SCALE team and I look forward to more opportunities in the future.

President, Value Based Care Operations

I have enjoyed working with the SCALE team as Chief Advisor and project lead for several healthcare sector engagements.  The SCALE model provides well-heeled engagement support from a competent team of in-house project managers, analysts, and technology experts.  Jason and Roy also provide leadership to bolster the team efforts and help navigate complexities.  The extensive panel of industry leaders and experts further supports the team in delivering rich perspectives that help create tremendous value for the client.  It is a pleasure to work with SCALE and to be a part of these successful engagements.

Chief Advisor, Financial and Payer Black Box Analysis

I have had the opportunity to work with a number of Private Equity and Consulting firms in the past. None of those engagements have been as rewarding and unique as working with SCALE. SCALE has provided me an opportunity to work with a very diversified group of Healthcare companies. I have had the pleasure of working with companies in PT, Epilepsy, Autism, Air Ambulance, Acute care hospitals and many others. Besides working with Jason and Roy, SCALE has associated itself with numerous other healthcare executives that offer a wide and diversified perspective of Healthcare. I have enjoyed the interactions with these high profile executives.

Cheif Advisor, Fee for Service and Risk-Based Contracting

At SCALE, Operating Partners join expert SCALE leaders and bring their content and field expertise and experience to a client project. The breadth and depth of the integrated team allow for high quality, focused and targeted consultation services focused on tangible goals. SCALE combines the expert financial and business acumen of the SCALE team with Operating Partner experts who have deep experience in a specialty area. The approach allows for tailoring to the specific dictates of the business engagement and allows for accelerated project progression and outcomes. The SCALE team and work is focused on achieving project goals and providing demonstrable outcomes. Positive impact of client engagements have included restructured business operations, accelerated business development including both B to B and B to C, development of a financial model and accelerated implementation of organizational change.

Cheif Advisor, Behavioral Health Platforms
We want to hear from you.