Grow Your Business
With a strong foundation and scalable operations program in place, physician platforms can become compelling vehicles for growth.
Physician platforms are facing challenging strategic questions. How is your group confronting reimbursement pressures? Do you have a sustainable, holistic strategy to preserve independence while competitors build scale and sophistication? Is your group effectively driving organic and inorganic growth across the diverse range of primary, ancillary and adjacent specialty opportunities? Is your organization prepared to achieve operational excellence across an increasingly complex ecosystem ranging from PR and marketing to payor contracting to data analytics to human resources and beyond?
The way in which physician practices respond to these themes will increasingly determine their ability to grow their business and sustain viability within the evolving healthcare landscape. A key determinant of success will be whether your physician platform is being advised by the right ecosystem of experts who can help your platform holistically and proactively address strategic challenges and capture emerging opportunities.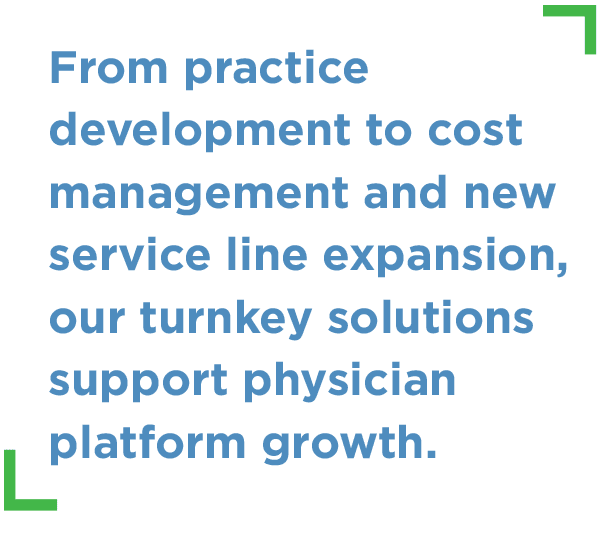 We support our partners in implementing proven strategies, robust analytics and prudent risk mitigation to build and execute on a portfolio of organic and inorganic growth & development initiatives.
Grow the Physician Network
Practice Development
Physician Syndication and M&A
Succession Planning & Associate Recruitment
Strategic Partnerships: Hospitals, Self-Insured Employers, IPAs, Clinically-Integrated-Networks
PR & Marketing: Patients, Physicians, Key Stakeholders
Expand the Service Portfolio
New Primary & Ancillary Service Expansion
ASC Strategy
Hospitalist Programs
Enhance Value From Existing Business
Value Add Payor Contracting Strategy, Analytics & Execution
Strategic IT to Support Enterprise Objectives
Cost Management Programs
Purchasing Power Savings