Your trusted source for practical healthcare market & operational insights and community for thoughtful healthcare leadership engagement & collaboration.
Elevate your healthcare operations performance, leadership, and culture with insights from leading healthcare CEOs, expert market research analysis, and peer engagement & collaboration.
SCALE Education was created as a community of and for healthcare leaders, designed to surface, organize, and share practical lessons learned and tangible strategies accumulated from the field. Subscribe today for:
Featured Subscribers / Members
SCALE's Education content and network are invaluable for getting ahead of the trends in the industry and understanding where the smart operators are focused. Their team is thoughtful and provides highly actionable intel for executives.
SCALE Education's content is very interesting and encouraging. I especially appreciated Andrew Mintz's article, which raised ideas that have me brainstorming about how we can rely on different types of clinicians for more of our process and eventually create a more formal internal training program. This can help us acquire the necessary staff to handle our growing referrals.
SCALE Education Membership Options
Content Program
Monthly Healthcare CEO Leadership Series

Monthly Market Research Insights

Annual Industry Predictions Reports

Periodic Industry Webinar Invitations
Leadership Circle
Monthly Healthcare CEO Leadership Series

Monthly Market Research Insights

Annual Industry Predictions Reports

Regular Educational Roundtable Invitations

Complimentary Access to SCALE's Annual Conference

Invitation to SCALE Co-Founder Offsite Retreat

Exclusive Access to SCALE's Leadership, Experts, and Analysts

Part of SCALE Leadership Network / Community
Premier Healthcare Services Content
Gain insight from top healthcare leaders with our Healthcare CEO Leadership Series.
Learn from the challenges and successes of healthcare CEOs across the healthcare services landscape on a monthly basis. Gain industry and operational insight from the nation's top leaders and raise the performance bar in your own practice.
Discover opportunities in healthcare with Market Research Insights.
Our Market Research Insights will provide you with ideas and opportunities in healthcare from a payer, reimbursement, and regulatory perspective. SCALE's extensive collective experience as healthcare operators, leaders, and executives offer an exclusive, insider's view on the industry.
Start the year off on the right foot with our Annual Industry Predictions.
Our Annual Industry Predictions Reports offer forecasts for over 25 clinical specialties and 10 operational domains from 20 healthcare experts and offer recommended companies to follow as well as practical insights for healthcare business management.
Your trusted source for thought leadership through our Whitepapers.
The SCALE Whitepaper Library is an archive of proprietary research and reports digging deep into challenges the industry faces while challenging the status quo. Our team of expert contributors take on clinical specialty specific issues to broader industry wide topics.
Healthcare CEO Leadership Series Excerpt
We apply a five-prong corporate strategy when tackling the concept of merging independent practices into one centralized and communicative MSO organism. When we go and have conversations today with practices, we are telling them what we're trying to achieve and how we're trying to get there, and we are able to be very specific with them about their role in this process.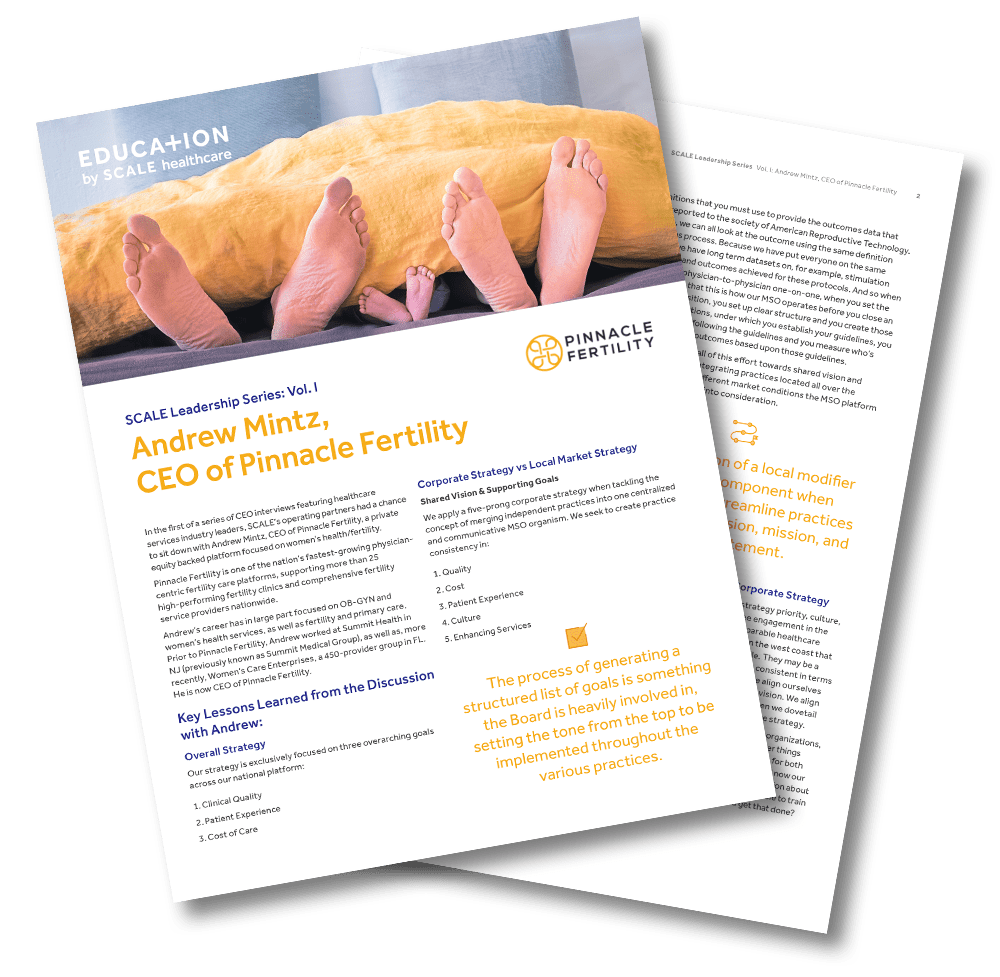 Healthcare Industry Expert Contributors
Leading a community of leaders.
We are constantly adding to our already extensive team of Executive Partners, clients, and advisors.  Hear from leading provider group CEOs, operational discipline experts, and top research analysts on a monthly basis with timely, insightful, and valuable intel to help you scale your healthcare business.
We offer discounted pricing for small, private practices.